Thursday, July 27, 2006
Canon Announces a new High Definition 6X Zoom XL 3.4-20.4mm L Lens for the XL-H1 HD Camcorder
Back from a long hiatus here. I'm preparing fro grad school, so been purty busy. The blog will probably die off too, though I will make an effort to remain up-to-date in the tech/photography line. Anyway, Canon announced a 6X wide angle High Def. (HD) zoom video lens, the 6X Zoom XL 3.4-20.4mm L lens for the XL H1 HD. Canon put this lens in its so called "L-series", which is where Canon designates their "highest quality" line. L series lenses have a red stripe around the lens. The 6X XL Wide 3.4 - 20.4mm L-series zoom lens features Ultra High Refractive Index Aspherical glass elements reducing distortion and lens elements are multi-coated to reduce flare and ghosting

The wide-angle lens provides has focal lengths from 24.5 to 147mm (in 35mm photographic terms) and the lens has a manual iris ring (maximum aperture of f/1.6 - 2.6) and a distance display function to help in manual focusing accuracy.

The lens will also allow users to switch between two 'Neutral Density' filters (1/6, 1/32) and it includes a Minimum Object Distance (MOD) feature, which creates an AF range suitable for normal shooting situations from one meter to infinity, preventing the annoying problem of a lens focusing on dust particles accumulated on the lens. The AF range can be extended to a minimum focusing distance of 20mm.

The lens will be available in November, at an MSRP of $2,999.
Friday, June 30, 2006
Samsung Developing Faster Flash Memory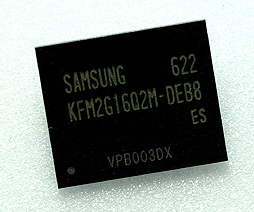 Samsung Electronics announced it had developed a faster and higher capacity version of the world's fastest memory chip, what they call "OneNAND", applying 60nm technology to the chip's production process.
The new 2Gb "OneNAND" has double the capacity of of the previous chip and increases the chip's write speed from 9.3MByte to 17MByte per second. Samsung says the chips can be 'interleaved', or interconnected, while allowing each chip to independently interact with the system, allowing more data that can be processed. And so, the chip's write capacity can be increased up to 136MByte per second when eight of the 2Gb memory chips are combined.
In addition to write operations, OneNAND memory can be used as buffer memory for faster read operations. Samsung says such a memory device could be employed as a buffer memory inside a hybrid hard disk.
I'm guessing this is going to be of more use to hard drives etc, than to compact flash cards. Although, future D-SLR's could use 50MB/sec write speeds, I guess.
Thursday, June 15, 2006
Samsung Announces Launches of First Blu-ray Disc Player To The U.S. Market

Here we go. The battle between HD-DVD and Blu-ray has begun. And Samsung has beaten Panasonic to the punch. Samsung has shipped the first Blu-ray, model BD-P1000 player to retailers in the U.S. market for availability on June 25th at a suggested price of $999.99.
Blu-ray offers close to five times the resolution of conventional DVDs making it the highest picture quality available on the market. The format is supported by movie studios including Sony Pictures and LionsGate Pictures which plans to release movies in Blu-ray format later this month. Paramount studios supports the HD-DVD format, as does Microsoft, Intel and others.
The BD-P1000 will be 'backwards compatible' and plays both standard DVDs and CDs in addition to supporting all DVD formats including, DVD-RAM, DVD-RW, DVD-R, DVD+RW, and DVD+R. Another nice feature is the included 10-in-2 multi memory card interface that supports all the major memory card formats including Compact Flash™, Secure Digital™, XD Picture Card™, Memory Stick™ (all TM) and others.

Thursday, June 8, 2006
Kingston Introduces their 8GB CompactFlash Elite Pro Card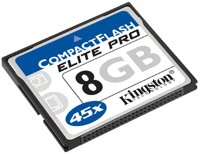 Been a long time since my last entry. I've been busy with life outside the digital world. Howeveh, I am back for now. Alas, it may only be a short while. Anyvey, another Kingston product caught my eye, 8GB! Darn! Doing very little research, however, I discovered this is old news. My my, I have not been keeping up to date the past year and change. So, back to the topic at hand.

Kingston Technology Company joined the 8GB club announcing the release of their CompactFlash Elite Pro 8-GB memory card. The card is an ideal storage choice for studio, catalog and portrait photographers who need to produce large files for catalog reproduction and other commercial purposes.

Kingston's 8-GB card will, like the rest of their CF Elite Pro cards have read speeds up to 8 MB/sec. and write speeds up to 6.75 MB/sec. This is far from Lexar's 90X cards that have sustained writing speeds of up to 13.5MB/sec, but will undoubtedly be more affordable. However, I'd think if a photographer is already shelling out the money for an 8GB card, they'd go for the one with double the speed. But that's just me.

Tuesday, March 28, 2006
Panasonic announces its first High Definition Blu-Ray Disc Player

So this is not really directly related to digital photography, but anyone with a computer and who uses DVD's will be affected, so I shall dabble in this area as well. Panasonic Consumer Electronics announced the upcoming availability of the company's first Blu-ray Disc player, the DMP-BD10, to be available this September.

Panasoinc touts "Blu-ray Disc" technology as the "next generation optical disc format". Of course, makers of the HD DVD format will disagree with that. Blu-ray will feature capacity upwards of 50 gigabytes on a dual-layer disc and will be capable of holding high-definition movies, many thousands of songs, and extensive capacity for extraordinary video games and PC storage. For an extended explanation of the entire DVD format war, refer to this Wikipedia article.

Panasonic writes that they added an "EZ-Sync HDAVI control function" to make it easier to connect and control many Panasonic products, such as their Plasma TV's, Disc players and receivers.

The introduction of the DMP-BD10 is timed to coincide with Panasonic's release of its first 1080p Plasma TVs this fall, which can make full use of Blu-ray's high definition entertainment capabilities.

Pricing in the United States on the DMP-BD10 has not been set, but the player will sell for less than $1,500. Panasonic also plans to release a high-definition receiver to be matched with the Blu-ray Disc player.

Thursday, March 16, 2006
Secure USB Drive from Kingston Technology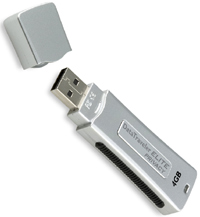 Kingston introduced their DataTraveler® Elite – Privacy Edition (DTE Privacy Edition), what they tout as the "world's first USB Flash drive that secures 100% of data on-the-fly via 128-bit hardware-based AES encryption." The DTE Privacy Edition offers 4GB of secure storage. If the drive is ever lost or stolen, data on the DTE Privacy Edition device remains secure.
In addition to hardware-based encryption, the drive features several other advanced security measures, including a complex password protocol and a mechanism that locks out would-be attackers after 25 consecutive failed password attempts.
Kingston says that DTE Privacy Edition drives are operable from any computer, and do not require admin rights, for which the likes of the Lexar Secure USB drew many complaints. The DTE Privacy Edition runs on Windows 2000 SP4 or higher, and Windows XP operating systems.
Kingston released the USB in 256 MB, 512 MB, 1 GB, 2 GB, and 4 GB versions. The USB drives come with 5 year warranties and have transfer rates of up to 24MB/sec read and 14MB/sec write.
Monday, March 13, 2006
Sony Debuts 8GB Compact Vault™ Drive for higher Storage Capacity
Sony Electronics unveiled the Compact Vault™ 8GB drive. The new drive is compatible with Compact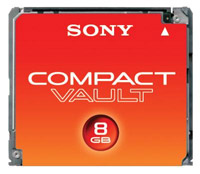 Flash type II slots, and provides a significant increase in data storage over the current 5GB version.
The new drive's 8GB capacity holds up to 2,560 JPEG images (at 3MB each) or 320 minutes of MPEG4 video, and has transfer speeds of up to 12MB per second.
The hard disk drive measures just over 1.5 inches wide and less than 1.5 inches high. It is designed for photo enthusiasts and so-called "prosumers" with 6-7+ megapixel cameras. The 8GB Compact Vault will be available in June with a suggested retail price of $259.99.
Friday, March 3, 2006
Sony Introduces the Cyber-shot® DSC-W100 and DSC-W70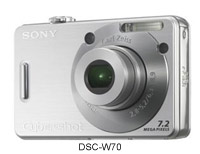 The DSC-W100 model packs an 8 megapixel sensor in a compact metal body with a stylized finish in black and silver. It has a manual exposure mode with extended control for up to 46 steps of adjustable shutter speeds (30 - 1/1000 sec.) and two steps of aperture control.
Both the DSC-W100 camera and the new seven-megapixel DSC-W70 model have an updated traditional camera style with their eye-level viewfinders and large 2.5-inch LCD screens. Both new models also feature Carl Zeiss® Vario-Tessar 3x optical zoom lenses; MPEG1 movie recording; high-light sensitivity settings; and a mode dial to quickly switch among photo, video, and preview.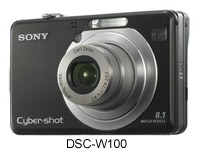 The cameras' high light-sensitivity facilitates shooting at higher shutter speeds to capture fast-moving subjects with reduced blur. It also allows for shooting without a flash to capture more natural-looking images in low-light settings.
The DSC-W70 model has a maximum ISO setting of 1000, while the DSC-W100 model extends to IS0 1250 for even greater control. Sony's Clear RAW ™ imaging technology helps increase the cameras' ISO settings and, at the same time, reduces the chances of blurry or grainy pictures by keeping picture noise to a minimum.
These W-series models feature a new function guide and resolution guide. When menu icons are selected, such as a specific shooting function or scene mode, a simple text explanation is displayed on the LCD making it easier to maximize the camera's performance. This function guide can be turned off as you become more familiar with the camera.
Link to full article
Wednesday, March 1, 2006
Transcend Releases Hi-Speed, Horizontal 128/256/512MB USB Flash Modules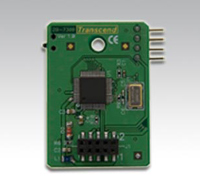 The rugged, 10-Pin Horizontal USB Flash Module (UFM) for use in Industrial PCs, Set-Top Boxes and other specialist industrial equipment offers expanded system memory for certain types of Computers and many specialist industrial systems take advantage of the USB interface for Hi-Speed data transfer and exchange.

The USB Flash Modules are small in size and specially designed for True Plug and Play functionality with Hi-Speed USB 2.0 data transfer. Transcend also says that its USB Flash Module is shock resistant, and achieves amazing Read/Write speeds of 25MB/18MB per second with a mechanical write protection to ensure that data is not overwritten. The Transcend's Horizontal USB Flash Modules has an external 4-Pin-out connector, which can be used to connect an additional USB port.
Tuesday, February 28, 2006
SanDisk Announces 4-Gigabyte Memory Stick Pro Duo Cards For Digital Photographers
The ultra-high capacity cards are primarily aimed for advanced photographers with high-resolution cameras. The Ultra II cards feature minimum writing speeds of 9 MB/sec and minimum reading speeds of 10MB/sec.
The fast write speeds are designed to allow with ease advanced digital camera features such as rapid fire, continuous-shooting modes or to capture digital video clips.
The cards will be available in early March at an MSRP of $239.99, and will include an adapter for use in full size Memory Stick slots.
Link to full article
Monday, February 27, 2006
Lexar Smart Download To Offer "Active Memory" Functionality For Adobe CS
Lexar Media announced the release of Lexar® Smart Download, a plug-in module that will allow photographers to rapidly download and manage images directly from their memory cards via Adobe® Bridge, a component of Adobe CS2. The plug-in takes advantage of the Adobe open scripting interface by allowing direct image downloads along with important IPTC metadata to Adobe Bridge and Creative Suite 2.

The Active Memory System (AMS) is stores user preferences and host device settings in a protected area on AMS flash memory cards. These settings can only be modified by the host application that created them and can be used to auto-configure multiple AMS-enabled products within the system. Also, these settings are preserved even when the card is re-formatted or other data files on the card are deleted, because the AMS data is stored outside the standard DOS file structure on the card. The AMS functionality coupled with Lexar Smart Download makes it possible to drive concurrent downloads from multiple cards and readers, a benefit for any photographer looking to save time in their daily workflow.

Lexar Smart Download will be available as a stand-alone application on Lexar's website for $29.95, and will be included with all of Lexar's Professional ActiveMemory CompactFlash and Secure Digital flash memory cards. The plug-in will be available for both Mac OS 10.4 and Windows XP/2000 and is scheduled for release by the end of March.