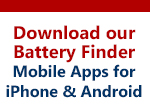 | | |
| --- | --- |
| Synergy Digital | SDNPFM50 Lithium-Ion Battery - Rechargeable Ultra High Capacity (7.4V 1500 mAh) - Replacement for Sony NP-FM50 |
Item: #SDNPFM50 | MFG: #DPNPFM50
In Stock
Note: Usually leaves our warehouse in 1 business day


Our Price: $15.95
NP-FM50 Battery Details
Limited Warranty
3 Years
 
Chemistry
Lithium-Ion
 
Volts
7.4
 
mAh
1500 mAh
 
Weight
2.7 oz - 76.8g
 
Dimensions (WxHxD)
1 9/16" x 13/16" x 2 1/4" (38.2mm x 20.5mm x 55.6mm)


This high-capacity lithium-ion rechargeable battery is a replacement for the Sony
NP-FM50 Battery . Dynamic Power batteries feature lithium-Ion technology, which ensures maximum battery life and maximum power. Also, lithium batteries are lightweight and can be charged or discharged at any time without developing so called "memory effect", so they never lose their ability to hold a full charge.


This battery is 100% OEM Compatible
Our Policy:
East Coast Photo's policy is to provide our customers with superior customer service. All of our products carry a 100% satisfaction guarantee. If, for any reason, you're not completely satisfied with your purchase, please return the product(s) to us within 30 days for refund or exchange.
SDNPFM50 Battery is Compatible with the following Camcorders:
Sony DCR-TRV6
Sony DCR-PC100
Sony DCR-TRV33
Sony CCD-TRV318
Sony DSC-S75
Sony DCR-PC8
Sony DCR-TRV70
Sony DCR-PC101
Sony DCR-TRV340
Sony CCD-TRV308
Sony DCR-TRV22
Sony DCR-DVD101
Sony MVC-CD500
Sony DCR-TRV10
Sony DSC-S70
Sony DCR-TRV38
Sony CCD-TRV108
Sony DCR-TRV238
Sony DCR-DVD301
Sony DCR-TRV11
Sony DCR-TRV730
Sony MVC-CD350
Sony DCR-TRV240
Sony CCD-TRV338
Sony DCR-TRV140
Sony DCR-TRV740
Sony DSC-S50
Sony DCR-TRV40
Sony DCR-TRV250
Sony DCR-PC115
Sony DCR-TRV16
Sony DSC-F77
Sony DCR-TRV480
Sony CCD-TRV128
Sony DCR-TRV27
Sony DCR-TRV80
Sony DSC-F707
Sony DSC-S30
Sony DCR-TRV828
Sony DCR-TRV18
Sony DCR-PC330
Sony DCR-TRV30
Sony HDR-HC1
Sony DCR-TRV20
Sony MVC-CD300
Sony CCD-TRV20
Sony DCR-PC6
Sony DCR-TRV325
Sony DCR-TRV950
Sony MVC-CD200
Sony DCR-TRV330
Sony DCR-PC9
Sony DCR-TRV24
Sony CCD-TRV118
Sony DCR-PC105
Sony CCD-TRV608
Sony DSC-FX77
Sony DCR-TRV350
Sony GV-D1000
Sony CCD-TRV107
Sony DCR-TRV230
Sony DCR-TRV840
Sony DCR-DVD100E
Sony CCD-TRV740
Sony DCR-DVD201E
Sony DCR-DVD101E
Sony DCR-PC105E
Sony DCR-PC101E
Sony DCR-PC120E
Sony DCR-PC110E
Sony DCR-TRV140E
Sony DCR-PC330E
Sony DCR-TRV18E
Sony DCR-TRV17E
Sony DCR-TRV230E
Sony DCR-TRV19E
Sony DCR-TRV33E
Sony DCR-TRV250E
Sony DCR-TRV460E
Sony DCR-TRV340E
Sony DCR-TRV50E
Sony DCR-TRV480E
Sony DCR-TRV950E
Sony DCR-TRV530E
Sony NP-FM50
Sony NP-FM30
Sony DCR-TRV25
Sony NP-QM51
Sony DCR-PC110
Sony DCR-DVD201
Sony DCR-TRV725
Sony MVC-CD400
Sony DCR-TRV39
Sony CCD-TRV328
Sony CCD-TR748
Sony DCR-TRV460
Sony DCR-PC120
Sony DCR-TRV260
Sony DCR-TRV738
Sony DSC-F828
Sony CCD-TRV138
Sony CCD-TRV408
Sony HDR-SR1
Sony DCR-TRV50
Sony DSC-F717
Sony DCR-TRV8
Sony DCR-TRV15
Sony DCR-TRV280
Sony DCR-TRV17
Sony DSC-R1
Sony DSC-S85
Sony DCR-TRV530
Sony CCD-TRV208
Sony DCR-TRV830
Sony DCR-TRV19
SDNPFM50 Battery replaces the following OEM part numbers:
Sony NP-FM30
Sony NP-FM50
Sony NP-FM51
Sony NP-FM65
Sony RV-4442N
Sony RV-4442N1
Sony VSN014
Sony NP-QM50
Sony NP-QM51
Sony NP-FM51SQ
Sony NP-FM50B9547
Sony BP-I1107PL
Sunpak TAI-S1105-01
Sunpak TAI-S1080-01
Power 2000 ACD-701
Duracell DRSM50
CTA DB-FM50
Vidpro ACD-701
Energizer ER-C545
Lenmar LISM50
Lenmar DLS-M50
Maxell M7236
Sakar CB-50M
Sakar BP-50MCL
Sakar CB-FM50
Ultralast UL-NPFM50
GP VSL002
Rayovac RV5442
Digipower BP-FM50
See any errors on this page Let us know