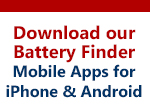 | | |
| --- | --- |
| Synergy Digital | SDCGADU21 Lithium-Ion Battery - Rechargeable Ultra High Capacity (7.4V 2200 mAh) - Replacement for Panasonic CGA-DU21U Battery |
Item: #SDCGADU21 | MFG: #DPCGADU21
In Stock
Note: Usually leaves our warehouse in 1 business day


Our Price: $19.95
Chemistry
Lithium Ion (Li-ion)
Output Voltage
7.4
milliamp-hour (mAh)
2200
Weight
3.6oz / 96g
Dimensions (approx.)
1-3/4" x 1-1/2" x 1-3/4"
Limited Warranty
3 Years


This high-capacity lithium-ion rechargeable battery is a replacement for the Panasonic
CGA-DU21 battery. This battery works with all the camcorders that use the CGADU14 battery, but the DU21 has more milliamps power (2200 vs. 1600). Our batteries feature lithium-Ion technology, which ensures maximum battery life and maximum power. Also, lithium batteries are lightweight and can be charged or discharged at any time without developing so called "memory effect", so they never lose their ability to hold a full charge.

This battery is 100% OEM Compatible
Guaranteed to meet or exceed OEM specifications

Our Policy:
East Coast Photo's policy is to provide our customers with superior customer service. All of our products carry a 100% satisfaction guarantee. If, for any reason, you're not completely satisfied with your purchase, please return the product(s) to us within 30 days for refund or exchange.
SDCGADU21 Battery is Compatible with the following Camcorders:
Panasonic PV-GS80
Panasonic VDR-M53
Panasonic PV-GS200
Panasonic PV-GS400
Panasonic PV-GS500
Panasonic PV-GS150
Panasonic PV-GS320
Panasonic VDR-D230
Panasonic PV-GS36
Panasonic VDR-D200
Hitachi DZ-BD10HA
Panasonic HDC-SD5BNDL
Panasonic VDR-D220
Panasonic PV-GS83
Hitachi DZ-GX5020A
HP BZ-BP14S
HP BZ-BP14SW
Midland VW-VBD210
Hitachi DZ-BD70
Hitachi DZ-BD70E
Panasonic PV-GS85
Panasonic PV-GS300
Hitachi DZ-BD70A
Panasonic PV-GS32
Panasonic VDR-M70
Panasonic VDR-D300
Hitachi DZ-GX5080A
Panasonic SDR-H18
Panasonic PV-GS19
Panasonic PV-GS59
Hitachi DZ-HS500A
Panasonic PV-GS250
Panasonic VDR-M50
Panasonic PV-GS70
Panasonic VDR-D100
Panasonic PV-GS50
Panasonic PV-GS180
Panasonic PV-GS55
Panasonic VDR-D250
Panasonic PV-GS35
Panasonic PV-GS120
Panasonic PV-GS39
Panasonic VDR-M30
Panasonic VDR-D210
Panasonic VDR-D310
Panasonic PV-GS29
Panasonic VDR-M75
Panasonic PV-GS31
Hitachi DZ-BD7HA
Panasonic PV-GS65
Panasonic SDR-H200
Hitachi DZ-HS300A
Sony DSC-H50/B
Sony DSC-H3/B
Sony DSC-H9/B
Sony DSC-H7/B
SDCGADU21 Battery replaces the following OEM part numbers:
HP BZ-BP14S
HP BZ-BP14SW
Midland VW-VBD210
Rayovac RV-4401
Rayovac RV-5401
Hahnel HL-U21
Digital Concepts BPDU21
Digital Concepts BPCGADU21
Battery Biz B-9067
Battery Biz B-9608
Battery Biz B-9609
APS BC1197
Inov8 B1324
Power 2000 ACD695
Panasonic CGA-DU21
Panasonic CGA-DU21A
Panasonic CGA-DU21A/1B
Duracell DRP210
Duracell DR3
Duracell DRP140
Duracell DRP70
Duracell DRP140RES
Duracell DRP70RES
Hitachi BZP-DU21
Hitachi BP-DU7
Hitachi DZ-BP14SW
Hitachi DZ-BP14S
Hitachi DZ-BP7S
Hitachi LIP07
Hitachi LIP14
Hitachi LIP21
Hitachi RV-4401
CTA DBU21
Vidpro ACD-695
Vidpro ACD-696
Lenmar LIP21
See any errors on this page Let us know