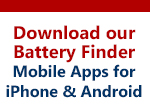 | | |
| --- | --- |
| Synergy Digital | SDLI20B Lithium-Ion Battery - Rechargeable Ultra High Capacity (3.7V 1050 mAh) - Replacement for Olympus LI-20B & Panasonic CGA-S302A Batteries |
Item: #SDLI20B | MFG: #SDLI20B
In Stock
Note: Usually leaves our warehouse in 1 business day


Our Price: $9.65
Olympus LI-20B Battery Details
Limited Warranty
3 Years
Chemistry
Lithium-Ion
Output Voltage
3.7
Capacity (mAh)
1050 mAh
Weight
0.9oz / 25.5g
Dimensions
Approx.

12.9" x 1.4" x 0.3"


This high-capacity lithium-ion rechargeable battery is a replacement for the Olympus
LI-20B battery. Our batteries feature lithium-Ion technology, which ensures maximum battery life and maximum power. Also, lithium batteries are lightweight and can be charged or discharged at any time without developing so called "memory effect", so they never lose their ability to hold a full charge.


This battery is 100% OEM Compatible
Guaranteed to meet or exceed OEM specifications

Our Policy:
East Coast Photo's policy is to provide our customers with superior customer service. All of our products carry a 100% satisfaction guarantee. If, for any reason, you're not completely satisfied with your purchase, please return the product(s) to us within 30 days for refund or exchange.
SDLI20B Battery is Compatible with the following Digital Cameras:
Olympus AZ-2 Zoom
Olympus AZ-1
Olympus Ferrari Digital
Olympus Az-2
Samsung Digimax V800
Panasonic SV-AV25EG-S
Panasonic SV-AS3A
Panasonic SV-PT1
SDLI20B Battery replaces the following OEM part numbers:
Olympus 200467
Olympus LI20
Olympus LI-20B
Panasonic 024-910001-10
Panasonic CGA-S301
Panasonic CGA-S301A
Panasonic CGA-S302
Panasonic CGA-S302A/1B
Panasonic DDNP-60
Panasonic LI-100
Panasonic NMG98
Panasonic NMP41
Panasonic SPJ2000
Panasonic VW-VBA21
Panasonic VWVBA21
Duracell DRF60
RCA NMG98
RCA NMP41
RCA SPJ2000
Polaroid B-9583
Polaroid PR108DG
Energizer ER-210
Lenmar DLF-120
Lenmar LI11B
Lenmar DLF-60
Maxell B-9583
Maxell DC3790
Sakar BP-N60CL
Ultralast UL-LI20B
Uniross VB102187
GP VFL001
Rayovac RVDC2600
Hahnel HL-60
Hahnel HL-20B
Digipower B-P0L20B
Digipower BP-NP60
Power Battery BP-NP60
Varta P39
3 Year Limited Warranty
See any errors on this page Let us know