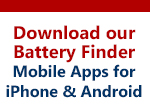 | | |
| --- | --- |
| Synergy Digital | SDLI40B Lithium-Ion Battery -Rechargeable Ultra High Capacity (3.7V 800 mAh) - Replacement for Olympus LI-40B and LI-42B Battery |
Item: #SDLI40B | MFG: #SMLI40B
In Stock
Note: Usually leaves our warehouse in 1 business day


Our Price: $8.95
Chemistry
Lithium Ion (Li-ion)
Output Voltage
3.7
milliamp-hour (mAh)
800
Weight
0.5oz / 13.6g
Dimensions (approx.)
1.5" x 1.2" x 0.2" / 3.8mm x 3mm x .5mm
Limited Warranty
3 Years


This high-capacity lithium-ion rechargeable battery is a replacement for the original Olympus LI-40B. This battery also works for all the digital cameras that require the LI42B battery. Our batteries feature lithium-Ion technology, which ensures maximum battery life and maximum power. Also, lithium batteries are lightweight and can be charged or discharged at any time without developing so called "memory effect", so they never lose their ability to hold a full charge.

This battery is 100% OEM Compatible

Guaranteed to meet or exceed OEM specifications



East Coast Photo's policy is to provide our customers with superior customer service. All of our products carry a 100% satisfaction guarantee. If, for any reason, you're not completely satisfied with your purchase, please return the product(s) to us within 40 days for refund or exchange.
SDLI40B Battery is Compatible with the following Digital Cameras:
Olympus D-630
Olympus Stylus 830
Olympus FE-340
Olympus FE-230
Olympus Stylus 790 SW
Olympus Stylus 1200
Olympus Stylus 770 SW
Olympus FE-150
Olympus Stylus 750
Olympus FE-350 Wide
Olympus U-720SW
Olympus FE-300
Olympus Stylus 730
Olympus SP-700
Olympus FE-250
Olympus FE-320
Olympus FE-280
Olympus Stylus 720
Olympus FE-5500
Olympus FE-190
Olympus Stylus 840
Olympus Stylus 700
Olympus FE-350
Olympus Stylus 820
Olympus FE-5040
Olympus Stylus 3000
Olympus VR-320
Olympus TG-310
Olympus X-560WP
Olympus VR-330
Olympus FE-4000
Olympus TG-320 Tough
GE E1410SW
Olympus FE-5020
Olympus Stylus 780
Kodak PIXPRO FZ53
Olympus U-700
Olympus FE-290
Olympus Stylus 740
Olympus Stylus 760
Olympus Stylus 725 SW
Olympus FE-240
Olympus IR300
Olympus Stylus 710
Olympus FE-360
Olympus Stylus 850 SW
Olympus Stylus 1050 SW
Olympus Stylus 1040
Olympus FE-5010
Olympus FE-20
Olympus Stylus 7000
Olympus Stylus 550WP
Olympus FE-3010
Olympus FE-3000
Olympus Stylus 7010
Olympus FE-5000
Olympus Stylus 5010
Olympus FE-4030
Olympus Stylus Tough-3000
Olympus Stylus 7030
Olympus FE-5050
Olympus FE-5035
Pentax Optio RS1000
Fujifilm FinePix JX420
Pentax D-Li108
Olympus Tough TG-320
Sanyo VPC-T1060
Pentax RS1000
SDLI40B Battery replaces the following OEM part numbers:
Olympus 2000346
Olympus LI40
Olympus LI-40B
Olympus LI-42B
Power 2000 ACD-247
CTA DB-LI40B
CTA DB-LI40
Lenmar LI40B
Ultralast UL-LI40B
Uniross U0131742
Empire VBC-272P
Empire BLI-272
Hahnel HL-40B
See any errors on this page Let us know