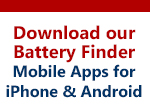 | | |
| --- | --- |
| | SDNP45 Lithium-Ion Battery - Rechargeable Ultra High Capacity ( 3.7V 800 mAh) - Replacement for Fuji NP-45, NP-45A Battery |
Item: #SDNP45 | MFG: #SDNP45
In Stock
Note: Usually leaves our warehouse in 1 business day


Our Price: $9.45
Fuji NP-45 Battery Details
Limited Warranty
3 Years
Chemistry
Lithium-Ion
Output Voltage
3.7V
Capacity (mAh)
800 mAh
Weight
.7 oz / 21g
Dimensions (approx.)
1.6" x 1.4" x 0.2"


This high-capacity lithium-ion rechargeable battery is a replacement for the Fuji
NP45 battery. Our batteries feature lithium-Ion technology, which ensures maximum battery life and maximum power. Also, lithium batteries are lightweight and can be charged or discharged at any time without developing so called "memory effect", so they never lose their ability to hold a full charge.

We also have the replacement charger for the Fuji NP-45 battery.


This battery is 100% OEM Compatible
Guaranteed to meet or exceed OEM specifications

Battery replaces the following OEM part numbers:
Our Policy:
East Coast Photo's policy is to provide our customers with superior customer service. All of our products carry a 100% satisfaction guarantee. If, for any reason, you're not completely satisfied with your purchase, please return the product(s) to us within 30 days for refund or exchange.
SDNP45 Battery is Compatible with the following Digital Cameras:
Fujifilm Finepix Z20
Fujifilm Finepix Z100 fd
Fujifilm Finepix Z90
Fujifilm Finepix XP30
Fujifilm FinePix JX500
Fujifilm FinePix Z900EXR
Fujifilm FinePix JZ100
Fujifilm FinePix JX580
Fujifilm FinePix T400
Fujifilm FinePix T350
Fujifilm FinePix JX660
Fujifilm FinePix JX680
Fujifilm Finepix Z10 fd
Fujifilm FINEPIX XP140
Fujifilm Finepix J100
Fujifilm FInepix J10
Fujifilm Finepix J110W
Fujifilm Finepix J120
Fujifilm Finepix Z37
Fujifilm Finepix J150W
Fujifilm Finepix Z35
Fujifilm Finepix EX-Z35
Fujifilm Finepix Z300
Fujifilm Finepix J30
Fujifilm Finepix Z30
Fujifilm Finepix Z33 WP
Fujifilm Finepix J250
Fujifilm Finepix J20
Fujifilm FinePix JV100
Fujifilm Finepix Z200 FD
Fujifilm JZ300
Fujifilm FinePix JV150
Fujifilm FinePix XP10
Fujifilm FinePix JZ500
Fujifilm FinePix Z700EXR
Fujifilm FinePix Z70
Fujifilm JX250
Fujifilm FinePix Z800EXR
Fujifilm Finepix A850
Fujifilm FinePix JX280
Fujifilm Finepix J27
Fujifilm Finepix J15
Fujifilm Finepix J38
Fujifilm Finepix J35
Fujifilm Finepix JX200
Fujifilm Finepix JV105
Fujifilm Finepix JZ305
Fujifilm Finepix JX205
Fujifilm Finepix XP11
Fujifilm Finepix JZ505
Fujifilm Finepix XP20
Fujifilm Finepix Z707EXR
Fujifilm FinePix T500
Fujifilm FinePix XP50
Fujifilm FinePix T550
Fujifilm FinePix T510
Fujifilm FinePix XP60
Fujifilm FinePix T560
Fujifilm FinePix XP70
Fujifilm Finepix T300
Fujifilm FinePix XP130
Fujifilm FinePix XP80
Fujifilm Finepix Z20fd
Fujifilm Finepix Z20fd
Fujifilm Finepix J12
Fujifilm Finepix 235
Fujifilm Finepix J250W
Fujifilm Finepix J250FD
Fujifilm Finepix J550
Fujifilm Finepix J28
Fujifilm Finepix J590
Fujifilm Finepix J580
Fujifilm Finepix J710
Fujifilm Finepix J700
Fujifilm Finepix JV250
Fujifilm Finepix JV205
Fujifilm Finepix JV300
Fujifilm Finepix JV255
Fujifilm Finepix JX260
Fujifilm Finepix JX250
Fujifilm Finepix JX305
Fujifilm Finepix JX300
Fujifilm Finepix JX370
Fujifilm Finepix JX310
Fujifilm Finepix JX400
Fujifilm Finepix JX375
Fujifilm Finepix JX520
Fujifilm Finepix JX405
Fujifilm Finepix JX590
Fujifilm Finepix JX550
Fujifilm Finepix JX710
Fujifilm Finepix JX700
Fujifilm Finepix JZ260
Fujifilm Finepix JZ110
Fujifilm Finepix T200
Fujifilm Finepix JZ300
Fujifilm Finepix T210
Fujifilm Finepix T205
Fujifilm Finepix T360
Fujifilm Finepix T305
Fujifilm Finepix XP22
Fujifilm Finepix XP10SE
Fujifilm Finepix Z1000EXR
Fujifilm Finepix XP55
Fujifilm Finepix Z1010EXR
Fujifilm Finepix Z100FD
Fujifilm Finepix Z110
Fujifilm Finepix Z10fd
Fujifilm Finepix Z200fd
Fujifilm Finepix Z115
Fujifilm Finepix Z31
Fujifilm Finepix Z30FD
Fujifilm Finepix Z33WP
Fujifilm Finepix Z33
Fujifilm Finepix Z71
Fujifilm Finepix Z5fd
Fujifilm Finepix Z808EXR
Fujifilm Finepix Z80
Fujifilm Finepix Z909EXR
Fujifilm Finepix Z81
Fujifilm Finepix J100W
Fujifilm Finepix Z91
SDNP45 Battery replaces the following OEM part numbers:
Fuji NP-45
Fuji NP-45A
Fuji 15774280
Hahnel HL-F45
Digipower BP-NP45
Power 2000 ACD-268
Lenmar DLO40B
Targus TGB-NP45
Empire BLI-331
Dantona CAM-NP45P
See any errors on this page Let us know